Lectures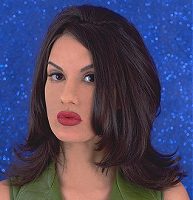 Looking for a speaker whose popular speech on Sexual Assault Awareness & Prevention is a hit on college campuses? Certified Sexologist, Sex Educator, Legendary Sex Columnist, and Author Anka Radakovich's speech HOW TO HAVE LOVE & SEX WITHOUT EMBARASSING YOURSELF is a must for college students. Topics includes "How To Prevent Anti-Sexual Assault" using specific techniques, Sex Etiquette, Safe Sex, Smart Sex, Sexual Pleasure, and real Sex Ed issues that most people never talk about, but should.
Helping college students navigate the rocky sexual landscape, her speech manages to tackle serious subject such as campus assault, consent, and safe sex in an entertaining way. Her lecture is a cross between stand- up and sex ed.
"She's the only sex educator out there who talks about the social aspects of sex," says Dr. Judy Kuriansky, Ph.D. of Columbia, University, which the kids need more than anything."
At the podium, Radakovich discusses what college students really want to know about sex. "College students are not getting the right information when it comes to sex," she says. "They are in desperate need of sex education that works for both sexes. Young men are getting their sex tips from watching porn on the internet, so no wonder they don't know what they're doing."
Her lecture covers safe sex, sexual etiquette, sexual politics, and the most serious issue on campus today -- how to avoid date rape and prevent rape culture. She discusses the effects of binge drinking, sexual assault prevention, and how to handle awkward sexual situations, which is key. She addresses the social issues of sexual behavior as she advises guys on how they should act and how girls should re-act. "Men need to know what women want and women need to know what men are thinking," she says. Her lecture empowers the girls, makes the boys think, and makes everyone laugh.
"Anka is always hilarious," says Conan O'Brien.
About Anka:
Anka Radakovich, who has a huge following on college campuses, is a Certified Sexologist, Certified Sex Educator, legendary Sex Columnist, Author, and Screenwriter. She is an expert commentator on sex and relationships for MSNBC, MTV, VH1, E!, The Fox News Channel, and CNN. She has appeared on over 100 television shows including eight appearances with Conan O'Brien.
She was the Sex Columnist for Details Magazine for 9 years, and is currently a Sex Columnist for British GQ and sex ed site sexpert.com Her writing has appeared in dozens of magazines including Cosmopolitan, Glamour, Marie Claire, Women's Health, Men's Health, Harper's Bazaar, Seventeen, Men's Journal, and Maxim. She was a Jeopardy question under the category "Men's Magazines." She is the Author of the new book The Wild Girls Club, Part 2, Tales from New York to Hollywood, which is her third book. Her other two books, The Wild Girls Club; Tales from below the Belt, and Sexplorations; Journeys to the Erogenous Frontier were published by Crown/Random House. She is a graduate of University of Maryland, attended New York University, and is pursuing a Ph.D. in Human Sexuality. She earned a Certified Sexologist and Certified Sex Educator from the American College Of Sexologists, International. She lives in New York City.
To book Anka,